Table of Contents
Watches have evolved significantly over time, with numerous companies striving to craft the perfect timepiece. Among these companies, Fossil stands out as a prominent name. However, the reviews on Fossil watches have been mixed. In this comprehensive review, we'll delve into the history, design, and user experiences to determine whether Fossil watches are still a valuable choice for watch enthusiasts.
Unearthing the History of Fossil Watches
Founding the Legacy

In 1984, Fossil emerged on the scene in Richardson, Texas, USA, founded by two visionary brothers, Tom and Kosta Kartsotis. Their concept was revolutionary – importing affordable fashion watches from the Far East to sell in the US, making fashionable timepieces accessible to the masses. Fossil's initial offerings featured retro-inspired designs, often packaged in eye-catching tin or wooden boxes.
Expanding Horizons

By the 1990s, Fossil's popularity soared, and they ventured into leather goods, including handbags and wallets. In a remarkable move, they acquired the well-established Swiss brand Zodiac Watches in 2001. This strategic move solidified their presence in Switzerland, the heartland of watchmaking. Fossil now extends its influence by producing licensed accessories for renowned brands such as BMW, Michael Kors, Kate Spade, and Emporio Armani. Their acquisitions, including Skagen Designs and Misfit, indicate their commitment to staying at the forefront of the watch industry.
Are Fossil Watches Good? Collections
Fossil has evolved into one of the world's largest watch manufacturers, capitalizing on the growing demand for stylish yet affordable timepieces.
Related post to read about Are Bulova Watches Good
Swiss-Made Endeavors

While Fossil's watches are predominantly manufactured in China, they entered the Swiss watch scene with the Fossil Swiss collection in 2013, in collaboration with Zodiac Watches. Their primary focus remains on quartz models, offering excellent value for money. However, the origin of their movements remains a well-kept secret.
Watch Enthusiast's Perspectives
Mixed Reactions

Fossil's watches have received mixed reviews among watch enthusiasts. While some appreciate their affordability and diverse designs, others criticize them for lacking a rich horological history and enduring quality. Many Fossil designs are considered trendy but may not stand the test of time.
Affordability vs. Quality

Fossil can be an ideal starting point for watch novices, offering a wide range of designs at affordable prices. Some users attest to the durability and reliability of Fossil watches, considering them worthwhile investments. However, not all experiences are positive, and concerns about quality persist.
Evaluating Fossil Watches
Balancing the Scales

Whether Fossil watches are considered "good" depends on individual preferences. Fossil's use of stainless steel, while cost-effective, can lead to concerns about quality. The finishing and materials used may make them appear less durable than expected.
Heritage and Tradition

Fossil's focus on affordable fashion watches has led to a lack of significant heritage or storytelling behind their collections. Their designs, while trendy, may not be distinctive enough to set them apart from competitors. This absence of a rich historical narrative may deter those seeking a deeper connection to their timepieces.
A Lack of Uniqueness

One criticism against Fossil is the lack of uniqueness in their designs, which often resemble offerings from other brands. Their watches may not possess the iconic qualities that set them apart from the crowd.
The Advantages of Fossil Watches
Global Presence

Fossil's widespread network of retail stores provides an advantage for customers. The ability to view and try on watches in person is a luxury in the digital age. Additionally, their online store is user-friendly, offering clear images and a seamless purchase experience.
Diverse Selection

Fossil caters to a broad audience with an extensive range of designs, from everyday styles to field watches and chronographs. Whether you're a medical professional or a soldier, there's likely a Fossil design that suits your taste. This variety is especially valuable for those exploring their watch preferences.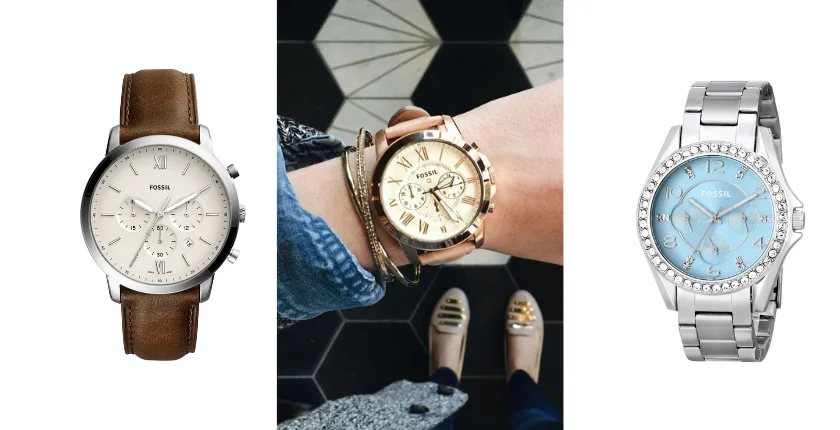 Noteworthy Fossil Watch Collections
Fossil The Minimalist
Embracing the minimalist trend, Fossil offers four main types of watches in this collection. The Minimalist series features a quartz movement, a 44mm stainless steel case, a 22mm strap width, mineral crystal, and 5 ATM water resistance. It caters to those seeking a casual and simple look, making it suitable for various settings. Prices range from $130 to $190.
Fossil Neutra
The Neutra collection combines minimalism with a chronograph function. It includes Neutra Chronograph, Neutra Automatic, and Neutra Moonphase Multifunction models. These watches cater to both casual and dressy occasions, offering similar specifications to the Minimalist collection but with slightly thicker cases. Prices range from $160 to $190 for the Chronograph and Moonphase models and $240 to $260 for the Automatic.
Fossil Heritage
The Heritage line stands out with its unique dial design, reminiscent of high-end brands. These watches feature two sizes (38mm and 43mm), and stainless steel cases, and some models even incorporate two-tone designs with gold plating. They boast automatic movements, exhibition case backs, sapphire crystals, and date windows at 3 o'clock. Prices range from $280 to $295.
Fossil Defender
The Defender collection adopts a field watch design, with clear 12-hour indices and 24-hour markers on the dial. These watches are available with various strap options, including nylon, leather, and stainless steel. They feature 46mm stainless steel cases, mineral crystals, and a unique solar-powered movement, ideal for adventurers. Prices range from $150 to $195.
Fossil Blue
The Fossil Blue collection offers sporty options, including GMT and Three-Hand Date dive watches. These watches feature 42mm stainless steel cases, 22mm strap widths, and 10 ATM water resistance. The designs include rotating bezels and sunburst-finished dials. With date functions and Cyclops date windows, they cater to water enthusiasts. Prices range from $150 to $195.
Should You Consider a Fossil Watch?
Ultimately, the decision to buy a Fossil watch depends on individual preferences and priorities. Fossil offers a decent value proposition, making it an accessible entry point into the world of watches. Their global presence and diverse selection of designs can be appealing to those seeking convenience and style.
However, for those who value rich horological heritage, craftsmanship, and exceptional quality, alternative brands like Timex, Seiko, and Citizen provide excellent choices. These brands combine affordability with a commitment to innovation, delivering timepieces that stand the test of time. Read for more Are Fossil Watches Good?
Final Thought
Fossil's presence in the watch market highlights the enduring appeal of traditional wristwatches. As the industry evolves to meet diverse consumer needs, Fossil continues to provide a gateway for those who value style and accessibility over deep horological history. The choice of a watch ultimately depends on your personal preferences, and the world of timepieces offers a wide range of options to explore.